Daughters of Triton is the opening song in the movie The Little Mermaid, which aired in the US on November 17, 1989.
In the song, six of the King's daughters -
Aquata
,
Andrina
,
Arista
,
Attina
,
Adella
, and
Alana
- are shown introducing themselves in song form. Near the end, it is shown that the seventh daughter, the main character of the movie,
Ariel
, is scheduled to be introduced as she comes out of a clam shell, but since she wasn't there, the performance was cut short and the sisters were forced to end the song prematurely.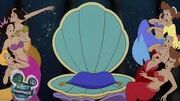 Ad blocker interference detected!
Wikia is a free-to-use site that makes money from advertising. We have a modified experience for viewers using ad blockers

Wikia is not accessible if you've made further modifications. Remove the custom ad blocker rule(s) and the page will load as expected.