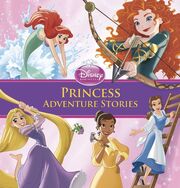 Little girls love empowered princess role models, and this new addition to the bestselling storybook collection series is filled with seventeen tales of adventure and bravery starring the Disney Princesses. From Belle and Ariel to Rapunzel and Tiana, the princesses show their courageous spirits as they go on quests and take on challenges in this keepsake collection featuring more than 200 beautiful illustrations and gilded pages.
1. Tangled: Beyond the Tower
2. Aladdin: Runaway Rajah
3. Cinderella: Princess in Disguise
4. Beauty and the Beast: Belle Takes Charge
5. The Princess and the Frog: Cooking Up a Plan
6. Sleeping Beauty: The Perfect Team
7. The Little Mermaid: The Quest for the Purple Pearl
8. Snow White and the Seven Dwarfs: A Windy Adventure
9. Brave: A Fateful Adventure
10. Tangled: Rapunzel's Challenge
11. Sleeping Beauty: Trouble in the Forest
12. The Princess and the Frog: A Hidden Gem
13. The Little Mermaid: Shark Surprise
14. Aladdin: Against All Odds
15. Tangled: Fit for a Crown
16. Beauty and the Beast: Belle and the Mysterious Monster
17. Cinderella: The Great Cat-tastrophe
Product Details
Edit
Age Range: 3 and up 
Grade Level: Preschool and up
Series: Storybook Collection
Hardcover: 304 pages
Publisher: Disney Press (July 30, 2013)
Language: English
Ad blocker interference detected!
Wikia is a free-to-use site that makes money from advertising. We have a modified experience for viewers using ad blockers

Wikia is not accessible if you've made further modifications. Remove the custom ad blocker rule(s) and the page will load as expected.