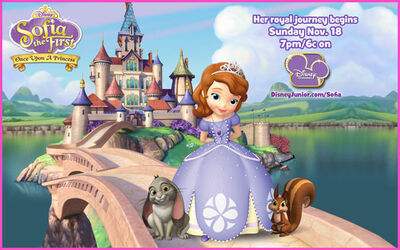 Sofia the First is a 3D computer-animated television series that officially premiered with its first half-hour episode on January 11, 2013. The series pilot made its debut on Disney Channel on November 18, 2012 with a one-hour special. The series stars Ariel Winter as the voice of the titular character, who is a young girl on the verge of becoming a proper, royal princess.
It introduces Sofia, a little girl with a commoner's background until her mother (voiced by Sara Ramirez) marries King Roland II and suddenly she becomes royalty.
Plot
The series follows the adventures of Sofia, a young girl who becomes a princess overnight after her mother marries the king. Sofia tries her best to adapt to her new life being a princess and has her stepbrother and sister James and Amber to help her along with the headmistresses of the Royal Preparitory Academy Flora, Fauna and Merryweather, the Three Good Fairies from Disney's classic Sleeping Beauty and, when Sofia is at her darkest hours, classic Disney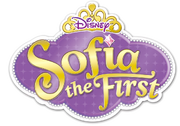 Princesses Cinderella, Jasmine, Belle, Ariel, Aurora, Snow White, Mulan, Tiana and Rapunzel are there for her.
Sofia learns that looking like a princess isn't all that hard, but behaving like one must come from the heart. The stories focus on the idea that what makes a real princess is what's on the inside. The show highlights character qualities such as kindness, courage, generosity, loyalty, honesty and grace. Subjects such as sincerity and forgiveness are heavily focused on. She has the magical and incredibly powerful Amulet of Avalor that allows her to talk with animals and turn into a mermaid. However her amulet is coveted by the sorcerer Cedric, who desires its tremendous magical power to take over the kingdom of Enchancia.
Seasons
Episode List
Television Movie (2012)
| # | Title | Air date | Summary |
| --- | --- | --- | --- |
| 00 | Sofia the First: Once Upon a Princess | November 18, 2012 | When her mother Queen Miranda marries the king of Enchancia, King Roland II the Second, Sofia becomes a member of the royal family and moves into their grand palace. She attends a preparatory school under the tutelage of fairies Flora, Fauna and Merryweather in order to train for her new role as a princess. With the help of a Amulet of Avalor that enables her to talk to animals and a special appearance from Cinderella, Sofia adjusts to her new surroundings and tries to form a strong and close bond with her initially reluctant step sister Amber. |
Season One (2013)
| # | Title | Air date | Summary |
| --- | --- | --- | --- |
| 01 | "Just One of the Princes" | January 11, 2013 | Sofia strives to become the first princess to earn a spot on her school's Flying Derby team. Although paired with the overly-anxious pony Minimus, Sofia learns to believe in herself and proves that a princess can do anything. |
| 02 | "The Big Sleepover" | January 18, 2013 | Sofia is put in a difficult position when she struggles to get her village friends Ruby and Jade and her new princess friends to get along during her first slumber party at the castle. |
| 03 | "Let The Good Times Troll" | January 25, 2013 | Sofia befriends the trolls that live in the cave near her new home, but trouble ensues when her father can't let go of his fear of their banging, even when she brings them to the castle. |
| 04 | "Cedric's Apprentice" | January 25, 2013 | Cedric hires Sofia to be his apprentice in order to steal her amulet when she seeks his help to learn magic for school. Along the way, Cedric takes his first step towards the light when she soothes his stress. |
| 05 | "A Royal Mess" | February 8, 2013 | The Golden Wing Circus is in town and the kids really want to go, but when James accidentally breaks a giant glass window, James and Sofia attempt to hide it while Amber distracts their parents. Sofia lays herself down for James when the parents find out, but after Baileywick clarifies James as the perp, the kids are ultimately forgiven, see the show, and get a new window conjured up by the circus magicians. |
| 06 | "The Shy Princess" | February 22, 2013 | Sofia helps Vivian, a shy classmate to overcome her fear of speaking in public. Meanwhile, Clover makes friends with her dragon Crackle. |
| 07 | "Blue Ribbon Bunny" | March 15, 2013 | Sofia decides to enter Clover in the Village Fair pet contest, but after pushing a little too hard, Sofia discovers a few things about friendship when she ends up unintentionally hurting his feelings before the contest. |
| 08 | "The Princess Test" | April 12, 2013 | When Flora, Fauna and Merryweather announce a big test, the princesses are put to the test but only one of them can win the trophy for showing the most important princess trait of all-kindness. Sofia sacrifices the vanity put upon her to help the librarian, who turns out to be Fauna in disguise, leading to Sofia getting her first trophy. |
| 09 | "Baileywick's Day Off" | April 26, 2013 | Baileywick celebrates his birthday with his brother, Nigel, with help from Sofia and the rest of the family. |
| 10 | "Tri-Kingdom Picnic" | May 17, 2013 | Sofia shows James how to be a good sport when the leaders of two of the allied kingdoms show up for a day of playing sports and games. |
| 11 | "The Little Witch" | May 31, 2013 | A little witch's hexes causes big trouble for Sofia and her friends. When she asks the witch to stop she says it's going to be hard. Sofia helps her mend her evil ways, and the witch fixes the hexes, getting the friends she wanted. |
| 12 | "Two to Tangu" | June 14, 2013 | Sofia and Amber visit Prince Zandar in the kingdom of Tangu but get lost on a magic carpet. Along the way, Sofia and Amber meet Princess Jasmine. |
| 13 | "Finding Clover" | June 28, 2013 | Sofia and her friends go on a daring rescue of their rabbit friend Clover who is being held by the clutches of Boswell the Magician. |
| 14 | "The Amulet of Avalor" | July 12, 2013 | Sofia loses the power to understand her animal friends when her magical amulet is captured by a baby castle Griffin. So it's a race between Sofia and Cedric to see who can get it first. |
| 15 | "The Buttercups" | August 2, 2013 | Sofia and her friends join the Buttercups, a Girl Scout-like group. Sofia uses Buttercup skills to prove that princesses can do things by themselves. |
| 16 | "Make Way for Miss Nettle" | August 23, 2013 | A new fairy teacher, Miss Nettle, who was once the apprentice of Flora, Fauna and Merryweather arrives at Royal Prep to be a teacher for the after-school gardening club. However, Miss Nettle has ulterior motives for coming to the school-specifically, stealing the spellbook of the headmistresses to overpower them. Sofia, along with James and Desmond, defeat Miss Nettle, though she swears to return. |
| 17 | "The Amulet and the Anthem" | September 13, 2013 | Sofia is chosen to sing the Enchancian Anthem at the annual Harvest Festival. After she becomes a bit too boastful, Sofia's magical amulet bestows a curse on her, leaving her all croaked up. Belle makes a guest appearance, helping another royal manage pride. |
| 18 | "Tea for Too Many" | September 27, 2013 | Sofia is chosen to host the Royal Prep Tea party. Amber is concerned about what kind of tea party Sofia has in mind. When Amber convinces her to make it bigger and ends up taking over preparations, things start to get hectic. Eventually, Fate steps in for Sofia by having the tables float away, forcing a small tea party-what Sofia wanted-to be set up instead. |
| 19 | "Princess Butterfly" | October 11, 2013 | When there is a Halloween costume contest, Amber is in way over her head, for the umpteenth time. She seeks the help of Cedric to make the best costume when she sees Sofia's seamstress talents to her full degree. However, Cedric's spell on Amber brings additional chaos when the costume is real and can only be removed with a potion requiring Sofia's amulet. Sofia discovers what has happened and tries to sacrifice her amulet, only to have it taken by Wormwood, resulting in another pegasus chase that ends with the amulet's retrieval. Amber confesses her cheat to the headmistresses, who turn her back to normal at the cost of her trophy. |
| 20 | "Great Aunt-Venture" | October 25, 2013 | Sofia's meets her step aunt Tilly. Together they go a wonderful adventure to collect apples for Tilly's famous apple pie for a family dinner. Along the way she discovers what it means to be a great adventurer! |
| 21 | "The Baker King" | November 8, 2013 | Sofia helps King Roland see how important his job is as king after he yearns to live a more simple life as a baker. when he is convinced by sofia he decieds that it's time to go back to being king. |
| 22 | Sofia the First: The Floating Palace | November 24, 2013 | When Princess Sofia goes on a high-seas vacation, she befriends a young mermaid named Oona when she frees her from a fishnet. The action, being of pure good, gives Sofia the power to shape-shift. When Oona gets captured by a sea monster, Sofia seeks out Princess Ariel, and together they work to save the day. In the process, Sofia helps strengthen the bond between humans and merfolk. |
| 23 | "Holiday in Enchancia" | December 1, 2013 | A snowstorm prevents King Roland from returning home in time for the holidays. Sofia leads her family on a brave expedition to find him, and shows Amber that spending the holiday with loved ones is better than any present. Includes a special appearance by Princess Aurora. |
| 24 | "Four's a Crowd" | February 14, 2014 | Sofia tries to overcome her jealousy of Jade and Ruby's budding friendship with Amber when they all decorate a flying coach for the annual Flylight Pageant. Thanks to Miranda's advice, and hitting the coach with a gooseberry pie by mistake, she learns the more, the merrier. |
Season Two (2014)
| # | Title | Air date | Summary |
| --- | --- | --- | --- |
| 01 | "Two Princesses and a Baby" | March 7, 2014 | Amber asks Cedric to cast a magic spell that will give her and James separate birthdays so that she can celebrate the day all by herself. After the spell accidentally turns James into a baby, Sofia helps Amber realize how special it is to have a twin, and work together to help Cedric reverse his spell. |
| 02 | "The Enchanted Feast" | April 4, 2014 | Cedric is preparing to show off his exceptionally strong magical abilities at the Enchanted Feast, which is a grand dinner for all of the kings and queens in the Tri-Kingdom area. When the evil fairy, Miss Nettle, disguises herself as a powerful sorceress and takes over the feast to get Sofia's amulet, Sofia forms an unlikely alliance with Clover, Cedric, and Wormwood to protect her mystical amulet and save her family. Snow White is later summoned to assist Sofia, telling her to trust her instincts. Sofia defeats Miss Nettle again, this time with the same illusion Nettle had tried on her earlier.  |
| 03 | "The Flying Crown" | April 11, 2014 | Sofia teaches Prince Hugo the meaning of teamwork and working together when they are paired in a Flying Derby race, leading to them winning the prized Flying Crown Trophy. |
| 04 | "Mom's the Word" | April 25, 2014 | Sofia gets disheartened when she has to share her mother, Queen Miranda, with Amber and James during the annual Mother's Day picnic. So she asks the good witch Lucinda to cast a spell so she and her mom can be alone together. Unfortunately, the spell throws mother and daughter in a boat on a rapidly raging river, leading to Sofia realizing that she must accept things the way they are. |
| 05 | "The Silent Knight" | May 9, 2014 | Sofia meets her idol and hero, the brave but silent knight Sir Bartleby, and helps him to accept his unique voice and romantically charm and attract her Aunt Tilly. |
| 06 | "Enchanted Science Fair" | May 30, 2014 | It's almost time for the Enchanted Science Fair, and Sofia and her classmates must pair up to work on their projects. When they discover that they need to find a magical ingredient at the top of a mountain, they compete to see who can reach the summit first-at the risk of their science projects and their friendships. Eventually, they all team up together. |
| 07 | "King for a Day" | June 27, 2014 | James is made King for the day but he gets carried away with his fun solutions to royal problems and winds up waking a sleeping baby giant. |
| 08 | "When You Wish Upon a Well" | July 11, 2014 | After becoming jealous, Amber makes a wish into a wishing well that accidentally turns Sofia into a cat. |
| 09 | "Gizmo Gwen" | July 25, 2014 | Sofia encourages a young kitchen maid named Gwen to pursue her dream of becoming an inventor. |
| 10 | "Sofia the Second" | August 1, 2014 | Princess Sofia uses a copying spell so she can be in two places at once but her copy is a troublemaker! Will Sofia be able to handle her nasty copy before she causes too much trouble? |
| 11 | "Mystic Meadows" | August 8, 2014 | Sofia visits a retirement home for sorcerers, and helps Cedric earn his family's powerful wand and his father's respect. |
| 12 | "Princesses to the Rescue!" | August 15, 2014 | While visiting the Chinese kingdom of Wei-Ling, James and Prince Jin set off to search for the legendary Chinese treasure of the Jade Jaguar but soon find themselves trapped in the jaguar's den. It's up to Sofia, Amber, Princess Jun, and Mulan to rescue their beloved families. |
| 13 | "Ghostly Gala" | October 3, 2014 | Sofia prepares for a Halloween party in the ballroom and discovers a ghost trying to scare everyone out of the castle so he can throw his own ghostly gala. |
| 14 | "The Emerald Key" | October 11, 2014 | After a valuable emerald key from the kingdom of Hakalo washes up on the shore of the castle, Sofia and her family must figure out who the key belongs to when two girls arrive, both claiming to be the princess and rightful owners of the mystical key. |
| 15 | "Scrambled Pets" | October 17, 2014 | Sofia and her friends regret their decision to bring their pets to school after Clover and the rest of the animals get scrambled in a sorcery class accident. |
| 16 | "The Princess Stays in the Picture" | October 24, 2014 | When Sofia and Hildegard become stuck inside an enchanted painting, Hildegard complicates their escape plan by insisting she knows everything. |
| 17 | "Baileywhoops" | November 7, 2014 | When the Kingdom of Enchancia is having a Jubilee, a new steward who wants Baileywick's job gives him a cursed pin that causes him to be very clumsy, leading Sofia to help Baileywick by becoming his junior steward assistant. Meanwhile, Cedric competes with King Magnus's Sorcerer in entertaining the other children. |
| 18 | Sofia the First: The Curse of Princess Ivy | November 23, 2014 | Sofia discovers that her amulet is for so much more than just talking to animals when her sister Amber takes the amulet and uses it to summon a princess of her own. Unfortunately, the princess that magically appears before Amber and Sofia's eyes is venomously evil and she wants to overthrow the kingdom of Enchancia by turning it all black and white! Sofia and Amber's every attempt to stop the princess fails…That is, until Rapunzel comes along and helps the girls' come up with the perfect plan to save the day. |
| 19 | "Winter's Gift" | December 12, 2014 | Sofia is in search for the perfect Wassailia gift for Cedric. En route, she meets a forest faun who is also searching for a special gift, a gift that will persuade an powerful enchantress to lift a terrible curse from the faun. However, the faun doubts that she is special. It's up to Sofia and Tiana to help her new friend with the gift of music. |
| 20 | "Clover Time" | TBA | TBA |
| 21 | "A Tale of Two Teams" | TBA | TBA |
| 22 | "Sidekick Clio" | TBA | TBA |
| 23 | "Substitute Cedric" | TBA | TBA |
| 24 | "Buttercup Amber" | TBA | TBA |
Season Three (2015)
| # | Title | Air date | Summary |
| --- | --- | --- | --- |
| 02 | "New Genie on the Block" | TBA | TBA |
| 04 | "Dad's and Daughter's Day" | TBA | TBA |
| 09 | "Princess Adventure Club" | TBA | TBA |
| 23 | "The Secret Library: The Tale of Miss Nettle" | TBA | TBA |
Cast
Clover
Mia
Baileywick
Princess Hildegard
Main article: Sofia the First: Once Upon a Princess
Sofia the First: Once Upon a Princess is the series premiere of Sofia the First.
Songs
Main article: Sofia the First Songs
Trivia
The Princess characters are all named from jewels & precious gems like Amber, Ruby, and Jade, except Sofia.
So far only Cinderella, Jasmine, Belle, Ariel, Aurora, Snow White, Mulan, and Rapunzel had made an appearance on the show.
Gallery
Games