Someday My Prince Will Come is a song sung by Snow White to the dwarves. Please note: all words in italics are spoken, not sung.
Lyrics
Snow White: Once there was a Princess
Doc: Was the Princess you?
Snow White: And she fell in love.
Snneezy: Was it hard to do?
Snow White: Well, it was very easy. Anyone could see that the Prince was charming. The only one for me.
Doc: Was he strong and handsome?
Sneezy: Was he big ans tall?
Snow White: There's nobody like him. Anywhere at all.
Bashful: Did he say he loved ya?
Happy: Did he steal a kiss?
Snow White: He was so Romantic
I could not resist.
Someday my Prince will come.
Someday we'll meet again
And away to his castle, we'll go.
To be happy forever, I know.
Someday When Spring is here
We'll find our love anew
And the birds will sing
And wedding bells will ring
Someday when my dreams come true
Video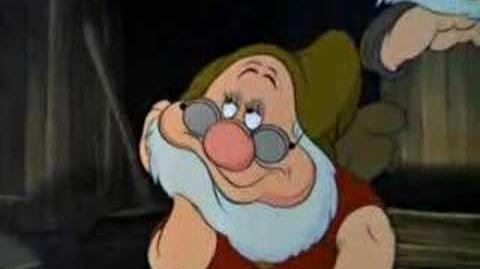 Ad blocker interference detected!
Wikia is a free-to-use site that makes money from advertising. We have a modified experience for viewers using ad blockers

Wikia is not accessible if you've made further modifications. Remove the custom ad blocker rule(s) and the page will load as expected.