Spoiler warning!
Narrative secrets ahead.
Tinker Bell is a beautiful blonde fairy who made her debut in the Peter Pan Movies and continued to her own book series, and later, movies.
Disney History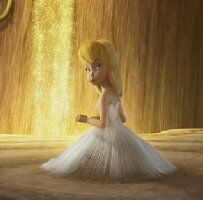 Other History
The Fairy Haven Series
Fairy Dust and the Quest for the Egg
Fairy Haven and the Quest for the Wand
Fairies and the Quest for Neverland
The Fairy Book Series
The Trouble With Tink
Tink, North of Neverland
Irridessa, Lost at Sea
Beck Beyond the Sea
The Original Peter Pan
Appearance
Tink has blonde hair in a bun and blue eyes. She has straight green-tinted wings, a green sleeveless leaf dress and green shoes with white puff balls at the toes.
Trivia
She is the Disney Princess, official or unofficial, with the most media.
She was originally in the disney princess franchise but was later dropped.
Gallery
Ad blocker interference detected!
Wikia is a free-to-use site that makes money from advertising. We have a modified experience for viewers using ad blockers

Wikia is not accessible if you've made further modifications. Remove the custom ad blocker rule(s) and the page will load as expected.